Strawberry Butter Body Cremé - *50% of Proceeds Benefit Local DC NonProfits*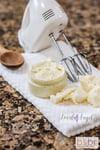 It's here! New Strawberry Butter body cremé! If you order the "Love, You!" Box earlier in 2021 then you were able to preview this amazingly scent body crème! I've made sure to revamp it!
Ripened strawberry nuances with a fresh green balance open this fruity blend in this body cremes. Soft sheer musky base notes are balanced with a sugary accord to complete a sweet ripe fruity sensation. It's delightful!! Pair it with Strawberry body scrub!
Made with Raw African Shea butter, seed oil and other nourishing carrier oils this creme is sure to be your new favorite!
** This purchase helps support local businesses and local non-profits in the DC area. Thank you for becoming a Local Angel.
**50% of proceeds from this sale will go to local nonprofits in the DMV (Washington, DC metro area).
**5% of proceeds from this sale will also go to Local Angel Co. to help raise funds for and amplify awareness of local DMV non-profits
Ingredients: Shea butter, grapeseed oil, coconut oil, olive oil, fragrance oil, essential oil.
10 oz. (296 ml)
Share